Wanted ****:
Absence of Malice. Sydney Pollack (1981):
Newman stars as Michael Gallagher, a Miami-based beer distributor whose deceased father was a powerful mob figure. Gallagher's dad always protected him from the inner workings of the crime world, so he's grown up as a straight arrow, his only connection to the past being his still-crooked Uncle Santos (Luther Adler). Elliot Rosen (Bob Balaban), a scheming federal investigator, wrongly believes that Gallagher knows the story behind the disappearance of an important labor leader and will do anything to nail Gallagher. One day, while talking to a newspaper reporter named Megan Carter (Sally Field), Rosen leaves his office and just 'happens' to place Gallagher's folder on his desk. Carter takes a peek and winds up writing a story that implicates Gallagher in the crime. But Gallagher has an alibi - he was in Atlanta at the time, where he was helping a close friend (Melinda Dillon) arrange an abortion. When Carter tries to fix things by writing a too-blunt retraction of her original story, a tragedy occurs. This leads to a complicated ruse by Gallagher that turns the tables on the reporter and newspaper who besmirched his good name.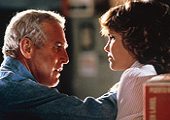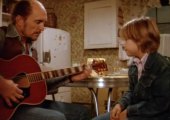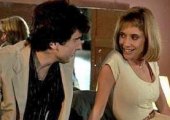 Tender Mercies. Bruce Beresford (1983):
Horton Foote wrote this. The two films 'Baby The Rain Must Fall' and 'Tender Mercies' I had always thought of together for many years, because they are so similar. I knew Foote had written 'Tender Mercies' but it was many years later before I realized he had written 'Baby The Rain Must Fall' too. The are both stories of country singers, down on their luck at the time, and in relationships. Both movies are slow-paced, moody, and character driven dramas. Robert Duvall-Mac Sledge, Tess Harper-Rosa Lee, Betty Buckley-Dixie, Wilford Brimley-Harry, Ellen Barkin-Sue Anne, Allan Hubbard-Sonny, Lenny von Dohlen-Robert, Paul Gleason-Reporter.

After Hours. Martin Scorsese ***(1985):
[Jo, qué noche] A New York office worker has "a very strange night" when he ventures for a late night date with a woman he just met, which turns into waking nightmare when one mishap after another strands him in a hostile neighborhood in his quest to return home before morning. Griffin Dunne-Paul Hackett, Rosanna Arquette-Marcy Franklin, Verna Bloom-June, Tommy Chong-Pepe, Linda Fiorentino-Kiki Bridges, Teri Garr-Julie, John Heard-Thomas 'Tom' Schorr, Cheech Marin-Neil. Julie despechada distibuye carteles con la foto de Paul como el causante de una oleada de robos. Paul consigue llegar al amanecer a su oficina después de sortear a numerosos vecinos enfurecidos.

Local Hero. Bill Forsyth (1983):
Houston oil men want to buy up a picturesque Scottish fishing village to construct a refinery. Eager young company man (Peter Riegert) is dispatched to make the deal. The townsfolk are only too willing to sell and pocket all those American dollars. The film provides a great setup for social commentary in addition to detailing the clash of two cultures, at once criticizing and admiring both sides. The movie treads this tricky path with total confidence, pointing up the idiosyncracies of both cultures with affection and accuracy. There's a wonderful perfomance from Lancaster as the oil company's head honcho. Wry comedy directed with great attention to detail. The supporting cast, including Jenny Seagrove, Fulton MacKay, and Denis Lawson, is a delight. 110 min.

When Mac MacIntyre (played with deadpan perfection by Peter Riegert) is sent by his star-gazing, slightly insane Knox Oil and Gas boss (Burt Lancaster) to Scotland's West Coast to buy the rights to a seaside town slated to be the site of an oil refinery, Mac embarks on his journey reluctantly. "Why do I have to go to all the way to Scotland?" Mac complains to a coworker. "I'm really more of a Telex man." But on the way to closing the deal, a funny thing happens: the place takes root in Mac. The town's eccentric inhabitants, eventful night sky, and stunning scenery soak into his psyche and combine to bring a very different Mac to the surface, a Mac who collects seashells, walks on the beach in his jeans instead of his suit, and throws his calendar watch, beeping "meeting time in Houston," into the sea. Mac eventually vies to switch places with Gordon Urquhart--accountant, bartender, innkeeper, and community representative in the land deal. After an evening spent drinking 42-year-old scotch ("old enough to be out on its own," Mac chirps, and then laughs smugly at his own joke) and negotiating the real estate deal, Mac tries to negotiate a deal for himself--to trade his high-rise Houston apartment, Porsche, and oil-company job for Urquhart's less traditional, but more fulfilling, life. The plot runs along almost as if behind the scenes, and the characters are intriguing, but the real appeal here is the incisive yet gentle humor. During a visit to a Knox Oil lab, Mac is shown into a room that contains a miniature of the town he has been sent to purchase. The head of the lab says, "Welcome to our little world," and then gives Mac the plastic replica of the town as a souvenir. "Dream large," he intones. The irony's easy to miss and is just one example of the intelligent presence--in the form of writer and director Bill Forsyth--working behind the scenes.

Atlantic City. Louis Malle ***(1981):
May be one of the most romantic and perverse ghost stories ever filmed, set not in a haunted castle but in a haunted city, the contemporary Atlantic City, a point of transit where the dead and the living meet briefly, sometimes even make love, and then continue on their individual ways. This Atlantic City, caught in the first excitement of the legalized gambling boom, is in a state of almost hysterical flux. Elegant, old-fashioned, ocean-front hotels are demolished before our eyes collapsing gracefully in subdued long shots while new, even bigger, probably flimsier hotels rise to take their places. It's principally about Lou (Burt Lancaster), who dresses neatly in frayed old clothes and fondly remembers the hustling Atlantic City of forty years ago, when gambling was exhilarating because it was illegal and Lou was the associate of top mob figures. Lou is now reduced to running numbers in the ghetto and living in a soon-to-be-torn-down apartment house just off the Boardwalk. He also acts as the companion to and occasional lover of Grace (Kate Reid), who came to Atlantic City during World War II to compete in a Betty Grable look-alike contest and is now a bedridden shrew. Lou rather loftily passes himself off as a former mob hit man who has become—he acknowledges with dignity—a has-been, when in fact Lou is a never-was. At the height of his career he was a mob gofer, an errand boy. He is also one of Mr. Lancaster's most remarkable creations, a complex mixture of the mingy and magnificent even when we see the vigor of the youthful Burt Lancaster showing through the real age. Playing more or less opposite Mr. Lancaster is Susan Sarandon, as Sally, a pretty, no-nonsense young woman who works by night shucking clams at a seafood bar and during the day studies to become a casino employee. Her goal: to become the first female croupier in Monte Carlo. Chief among the other characters is Chrissie (Hollis McLaren), Sally's out-of-date flower-child sister who, without warning, descends on Sally accompanied by Sally's husband Dave (Robert Joy), a small-town punk who earlier ran off with Chrissie and made her pregnant. When Chrissie and Dave arrive in Atlantic City, riding in the back of an open truck and looking like turn-of-the-century immigrants, Dave is also carrying a large amount of cocaine, stolen from the Philadelphia mob, which he attempts to sell in the Atlantic City underworld, with disastrous results. All of the performances are excellent, from Mr. Lancaster, Miss Reid, Miss Sarandon, Miss McLaren, and Mr. Joy, right on down to Sean Sullivan, who appears in two marvelous, very short scenes as an elderly attendant in a washroom, one of Lou's cronies from the good old days.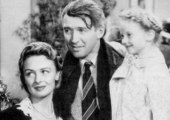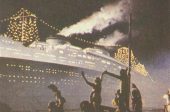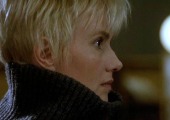 Años 40 ****:
It's a Wonderful Life - Frank Capra (1942)
Beauty and the Beast - Jean Cocteau (1946)
The Big Sleep - Howard Hawks (1946)
Body and Soul - Robert Rossen (1947)
Gentleman's Agreement - Elia Kazan (1947)
Adam's Rib - George Cukor (1949)

Años 50 ****:
+All About Eve - Joseph L.Mankiewicz (1950)
The Asphalt Jungle - John Huston (1950)
The African Queen - John Huston (1951)
+The Quiet Man - John Ford (1952)
Fresas salvajes - Ingmar Bergman (1957)
Anatomy of a Murder - Otto Preminger (1959)

Años 60 ****:
+The Apartment - Billy Wilder (1960) Vdub
The Loneliness of the Long Distance Runner - Tony Richardson (1962)
+Blow-up - Michelangelo Antonioni (1966)
Persona - Ingmar Bergman (1966)
The Lion in Winter - Anthony Harvey (1968)


Años 70 ****:
Lovers and Other Strangers - Cy Howard (1970)
Little Big Man - Arthur Penn (1970)
Gritos y susurros - Ingmar Bergman (1972)
Amarcord - Federico Fellini (1974)
Lenny - Bob Fosse (1974)
All the President's Men - Alan J.Pakula (1976)
Heaven Can Wait - Warren Beartty & Buck Henry (1978)
La luna - Bernardo Bertolucci (1979)

Años 80 ****:
Ordinary People - Robert Redford (1980)
Kramer Vs. Kramer - Robert Benton (1980)
Ricas y famosas - George Cuckor (1981)
La mujer del teniente francés - Karel Reisz (1981)
Corazonada - Francis Ford Coppola (1982)
Fanny och Alexander - Igmar Bergman (1982)
Berlin Alexanderplatz - Rainer Werner Fassbinder (1983)
Coup de Foudre [Entre Nous] - Diane Kurys (1983)
La vaquilla - Luis García Berlanga (1983)
Dune - David Lynch (1984)
Los santos inocentes - Mario Camus (1984)


Wanted 2008:

Amateurs - Gabriel Velázquez
El abogado del terror - Barbet Schroeder
Kicking and screaming - Noah Baumbach (1995)
Una historia de Brooklin - Noah Baumbach (2005)
Before Night Falls - Julian Schnabel (2000)
Sleepless in Seattle
On the Golden Pond
Radio Days - Woody Allen
Broadway Danny Rose - Woody Allen
A Fish Called Wanda
Héctor ESP

Solic.:
+La Maladie de Sachs - Michel Deville (1999)
+Oci ciornie - Nikita Mikhalkov (1987)(Sub+)
+Spring, Summer, Autumn, Winter... and Spring - Ki-duk Kim (2003)(Sub+)
+La Belle Noiseuse: Divertimento - Jacques Rivette (1991)(Sub+)
+Va savoir - Jacques Rivette (2001)
+Intimacy - Patrice Chéreau (2001)(Sub+)
+Ma saison préférée - André Téchiné (1993)

Burnt by the sun - Nikita Mikhalkov (1994)(Sub+)
When the light comes - Stijn Coninx (1998)
Nelly et monsieur Arnaud - Claude Sautet (1995)

Aprile - Nanni Moretti (1998)
Che ora é - Ettore Scola (1989)
Il caso Mattei - Francesco Rosi (1972)
Le chiavi di casa - Gianni Amelio (2004)
Padre padrone - Paolo e Vittorio Taviani (1977)