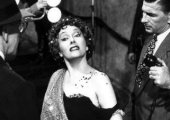 El cine en la década de los 50:
Sunset Boulevard. Billy Wilder (1950):
An impoverished screenwriter, played by William Holden, becomes the kept man of an aging movie queen, played by Gloria Swanson, in this memorable drama. The cynical and acid commentary on Hollywood morality highlights the gothic storyline. The baroque details of the setting and plot -the burial of a pet chimpanzee, the empty swiming pool, the gaudy decor of Swanson's home- emphasize the theme of death and decay. A brittle portrait of Hollywood. Fred Clark, Nancy Olson, Buster Keaton, Hedda Hopper, Jack Webb, and Cecil B, De Mille star in supporting roles. Academy Award: Story and screenplay (Charles Brackett, Wilder and D.M.Marsham). Nominations: picture, director, actor, actress, supporting actor (Erich von Stroheim), best supporting actress (Olson), cinematography (John F.Seitz). 110 min.
The Bad and the Beautiful. Vincente Minelli (1952):
Kirk Douglas plays a tyrannical, manipulative producer fallen on hard times. To get back on his feet, he asks for help from three Hollywood giants whose careers he helped launch -a director (Barry Sullivan), an actress (Lana Turner), and a writer (Dick Powell)-. Unfortunately, they all hate him. Flashbacks explain why. Douglas had been close to all three at different points in his career: He and the director started out together making B-movies, he gave the wayward actress her first starring role, he turned the novelist into a successful screenwriter. Then in one way or another he stabbed each of them in the back, though not always deliberately. The script has a lot of backstage clichés, but Vincente Minnelli's sharp, energetic direction, the gorgeous black-and-white cinematography, and the topnotch performances -particularly Douglas and Gloria Grahame, who won an Oscar for her sweet role as the writer's cheerful Southern wife- flesh out the clichés with cutting details and convincing bile. Caustic, starry-eyed, and slyly funny, The Bad and the Beautiful is a strange and skillful blend of "If I can make it here, I can make it anywhere" pluck and poisonous cynicism, one of the great movies about making movies.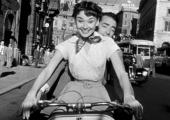 Roman Holiday. William Wyler (1953):
Peck and Hepburn star in this story of a lonely princess who runs away from her official duties, meets a newspaperman, an falls in love with him. This captivating comedy -filmed in Rome- made Hepburn a movie star, and set a fashion trend called the "Hepburn look". Wyler directed from a script by Ian McLellan Hunter and John Dighton. The film also stars Eddie Albert, Hartley Power, and Hancourt Williams. Academy Awards: Hepburn, best actress; Hunter, motion picture story. Nominations: best picture; Wyler, best director; Albert, best supporting actor; Hunter and Dighton, screenpplay; Franz Planer and Henry Alekan, cinematography. 118 min.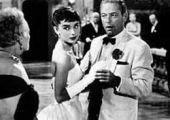 Sabrina. Billy Wilder (1954):
Hepburn is delighful in this excellent comedy about a chauffeur's daughter. She's romanced by Bogart, who plays a middle aged tycoon, and by Holden, who is Bogart's playboy brother. Based on Sabrina Fair, the film makes good use of an ofbeat cast. Wilder also served as producer and screenwriter on the film. Although not one of his most significant efforts is well crafted and entertaining. Academy Award Nominations: Wilder, Samuel Taylor an Ernest Lehman, screenplay; Charles Lang, Jr, cinematography. 113 min.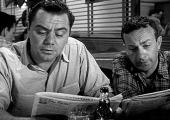 Marty. Delbert Mann (1955):
"I've been looking for a girl every Saturday of my life", says Marty Piletti. Yet, despite all his efforts, this 34-year-old Bronx butcher remains as shy and uncomfortable around women today as on the day he was born. So when he meets Clara, a lonely schoolteacher who's just as smitten with him as he is with her, Marty's on top of the world. But not everyone around him shares Marty's joy. And when his friends and family continually find fault with Clara, even Marty begins to question his newfound love... until he discovers, in an extraordinary way, the strength and courage to follow his heart. This is one of the most compassionate and touching films about the lives and problems of ordinary people ever produced. Ernest Borgnine is perfectly cast as the lonely middle-aged butcher resigned to an unmarried life, who finally falls in love with a girl in similar circumstances; Betsy Blair plays the lonely girl. Paddy Chayefsky's script was initially written as a TV play, and it gains further impact and importance as a feature film. It's a movie masterpiece, filled with subtleties, irony, and Truth. Borgnine's perfomance is magnificent, and there's excellent support from Blair, Esther Minciotti, Joe Mantell, and Jerry Paris. Oscars: película, director, actor y guión. Nominaciones: Mantell, Blair (secundaria) y Joseph LaShelle (fotografía). 91 min.
Giant. George Stevens (1956):
This sprawling epic, based on the novel by Edna Ferber, is about a Texas family involved in cattle ranching. The film is rendered with style and fine acting by a good cast. Rock Hudson and James Dean are excellent as two opposing men in love with the beautiful Elizabeth Taylor. Director Stevens expertly develops a feeling for the period and the lives of the characters who achieved success from the land. There's fine supporting work, too, from Carroll Baker, Sal Mineo, Mercedes McCambridge, Chill Wills, Dennis Hopper, and Rod Taylor. This was Dean's last picture. Oscar a la mejor dirección. Nominaciones: película, Dean, Huston, McCambridge (secundaria) y guión adaptado (Fred Guiol e Ivan Moffat). 197 min.
Paths of Glory. Stanley Kubrick (1957):
[Senderos de gloria] A partir de hechos reales ocurridos durante la Gran Guerra, recogidos por Humphrey Cobb en su novela homónima, Kubrick hace una interesante obra antibelicista. Escrita por Calder Willingham, el propio realizador y el escritor de novelas policiacas Jim Thompson, narra la ejecución de tres soldados franceses para dar ejemplo y, sobre todo, camuflar la incompetencia del estado mayor del ejército francés. Producida y protagonizada por Kirk Douglas, su eficacia y sobriedad narrativa marca el mejor momento de la colaboración de Kubrick con el productor y más tarde también realizador James B.Harris. También con Adolphe Menjou, George Macready y Wayne Morris. 86 min.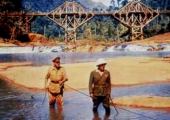 The Bridge On the River Kwai. David Lean (1957):
A superb war drama distinguished by magnificent acting and direction and an out-of-the-extraordinary approach to its subject. Alec Ginness stands out a a determined British commanding officer captured by the Japanese. He spurs his men to construct a railway bridge in Burma for their captors to maintain morale and demonstrate British engineering superiority; then he can't bear to see his creation blown up by his own side. The film is blessed with gripping action, suspense, and a compelling script that bristles with ironies. The film is based on Pierre Boulle's novel. También con Jack Hawkins y William Holden. Oscars: película, director, actor (Guinness), guión (Boulles), fotografía (Jack Hildyard). Sessue Hayakawa fue nominado como actor secundario.
Gigi. Vincente Minelli (1958):
Colorful and delightful Lerner and Loewe musical, graced with memorable songs and fine acting. Leslie caron is ideal in the part of a young French girl who becomes stunning woman and charms a hansome rake, played by Louis Jourdan. The film, however, is best remembered for the perfomance of Maurice Chevalier as Jourdan's uncle; he sings Thank Heaven for Little Girls. The Oscar-winning costumes and the turn-of-the century Paris settings is wonderful. También con Hermione Gingold, Jacques Bergerac, Eva Gabor y John Abbot. Oscars: (9) película, director, guión (Alan Jay Lerner) y fotografía (Joseph Ruttenberg). 116 min.
Oscars:
1950: Eva al desnudo - Joseph L.Mankievicz. 1951: Un americano en París - (Mejor dierector: George Stevens - Un lugar en el sol) 1952: El mayor espectáculo del mundo - Cecil B. deMille (Mejor director: John Ford - El hombre tranquilo). 1953: De aquí a la eternidad - Fred Zinnemann. 1954: La ley del silencio - Elia Kazan. 1955: Marty - Delbert Mann. 1956: La vuelta al mundo en 80 días - (Mejor director: George Stevens - Gigante). 1957: El puente sobre el río Kwai - David Lean. 1958: Gigi - Vincente Minelli. 1959: Ben-Hur - William Wyler.